IAC BOWLING: NOTRE DAME BOYS BACK TO FULL ROSTER, TAKES A POINT IN LOSS
(2022-01-12)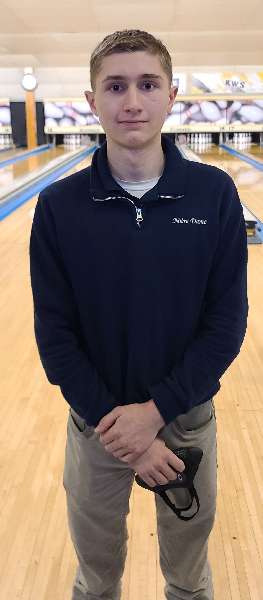 Southern Tier Sports Report
ELMIRA — The Notre Dame boys were back to having five bowlers, and they took a point off Union-Springs/Port Byron in bowling action.
The Crusaders fell 3-1 on the girls side and 4-0 on the girls side.
For the boys Notre Dame shot 752, 854 and 773 for a 2,379, while Union Springs shot 806, 807 and 806 for a 2,419.
For Notre Damę Ashton Colonio shot 208-172-192-572, Billy Alley shot 148-162-183-493 and Conner Ryan shot 135-215-136-485, while Nial Gardner shot 110-156-139-405 and Xander Gillette had a 138-143-123-404. Aidan Gardener shot 123-150 for two games.
Union-Springs was led by James Casbarro who shot 554 with a 190 high game.
For the girls Emmalie Barkley shot 105-177-204-486, while Maddie Gleason shot 134-133-182-449.
Erin Connolly had an 86-154-137-377, while Hanna Gonzalez shot 115-144-100-359 and Jillian Whittaker shot 79-155-122-356, while Lydia Howe shot 105-119-70-294.
Jenna Jump led Union Springs with a 192-204-244-640.
Lilly Michal was an extra bowler for Notre Dame, shooting 111-92-118-321.
——
IN PHOTO: Notre Dame's Conner Ryan. . . PHOTO BY BRIAN FEES