COLLEGE BASEBALL: EDISON DUO SIGNS TO PLAY IN COLLEGE TOGETHER AT OCC (4 PHOTOS)
(2022-01-12)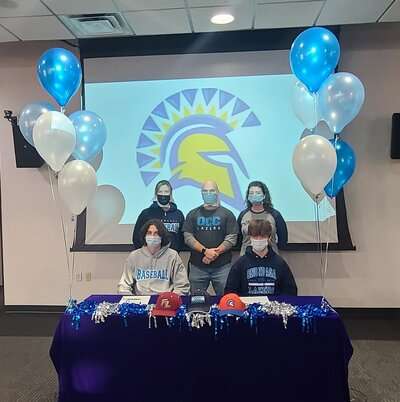 By Brian Fees
Southern Tier Sports Report
ELMIRA HEIGHTS —For any baseball player it's special getting a chance to play the sport with your best friend.
To get that opportunity at the college level is something very few get a chance to do.
That's exactly what is happening for Edison's Michael Brown and Dylan Swartwood, who signed on Tuesday to play baseball at Onondaga Community College.
"It feels great, it's nice to know that I have my best friend coming with me on this journey," Brown said. "I'm just excited to play some baseball at the JUCO level and it will be a great opportunity for me."
The two have been a potent battery for Edison, where Swartwood is a pitcher, and also plays first base, while Brown is primarily the team's catcher.
Last year Brown hit .421 in the Covid shortened season and Swartwood had a 2.21 ERA as both learned first-team IAC honors.
"It's been a long time we have been playing together, so I think it will be special to be able to connote with him and keep playing with him," Swartwood said. "I think it made it easier to go to the same school, I didn't really want to go with anyone I didn't know, I think it would be easier at least having someone you knew going with you."
Both players know that having the other should make the transition to college easier.
"Having someone with me that is going through it for the first time as well," Swartwood said.
When it came to making a college choice the two were looking at schools together.
"We made the decision together mostly," Brown said. "It was kind of individual because if he didn't want to and I did, I would have went either way, but I'm glad we both decided on the decision to both go," Brown said.
There were some other choices when it comes to schools, but in the end Onondaga felt like the right place for both players.
"Wells College, that was a big one," Brown said of other schools they considered. "They looked at us hard, and I thank the coach for the opportunity he provided, but we just thought OCC was the right choice for both of us."
Like Edison, Onondaga is a school with a history of success. They won 30-plus games in back-to-back seasons as recently as 2016 and 17. And, for Brown the school always felt like the perfect fit since his dad also played there.
"It was great to play at Edison," Brown said. "My dad has been coaching here since I was four-years-old, so I grew up on this ball field. It's great, there is a lot of history here. State runner-up, section titles, just a lot of great baseball here. OCC, my dad went to OCC as well so it was kind of a natural choice and they have a great baseball tradition, so it's pretty cool."
Brown is thinking he'll major in business administration with a minor in marketing. Swartwood isn't certain on what his plans for a major are, but he's leaning toward business.
Both players just felt like OCC was the right fit.
"I really liked the campus," Brown said. "The coach seemed great, he really brought good energy. The campus was beautiful, the classes were what I wanted to. And, the baseball is pretty good. It all factored in, it just felt like the right fit."
For Swartwood playing at Edison has felt like family and he hopes college is the same way.
"It's been fun," Swartwood said. "It's like a part of the family, we are always out there on the field having fun and just always working to be a better team.
"I am just hoping that it's as open as Edison always was and that it's another family and we can have fun and play some good baseball."
Tuesday's signing was a special moment for both players.
"It felt good, it felt good to have everyone here," Swartwood said. "To have everyone supporting me and especially to have Michael here since we are going to the same school."
For Brown, it's strange to think he's a senior signing to play college baseball with his best friend.
"It's crazy," Brown said. "It's even crazier knowing I have a lifelong teammate with me. It's even crazier to think about a couple years ago we were just playing Little League baseball at 11 and now we are signing letters to go to college. So, it just feels great."
——
PHOTOS BY BRIAN FEES