ON TAP TODAY: ELMIRA AND CORNING MEET IN BASKETBALL, BOWLING; BUSY DAY ON TAP
(2022-01-12)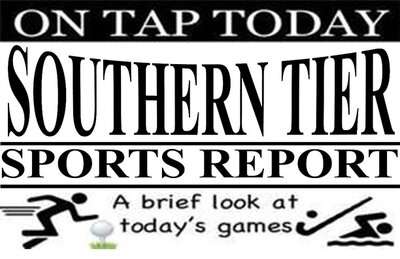 Southern Tier Sports Report
One day after the Elmira and Corning girls met on the hardwoods, the boys hit the court in a matchup today and the two teams also meet in bowling.
There are eight events on schedule today, including three bowling matches, two boys' basketball games and two wrestling matches and one girls' basketball game.
A look at today's events.
BOYS' BASKETBALL
Elmira at Corning, 7:15 p.m.
The unbeaten Hawks are coming off a win over Owego that moved them to 8-0 on the year. Corning is ranked 18th in the state. Elmira dropped their last game to Horseheads. Elmira got out to a strong start, leading by 20, before the Blue Raiders came back for the win.
Horseheads at Ithaca, 6 p.m.
Coming off a come-from-behind win over Elmira in their last game the Blue Raiders are back on the road for a STAC matchup. Ithaca also had a win over Elmira last week.
GIRLS' BASKETBALL
Moravia at Notre Dame, 7:30 p.m.
The Crusaders are home for a non-league matchup as they take on Moravia. The Crusaders have been led by Shannon Maloney this season.
WRESTLINGMaine-Endwell at Elmira, 6:30 p.m.
The Express play host to Maine-Endwell in a STAC matchup. Maine-Endwell dropped a match to Corning in their last matchup. Elmira is coming off a trip to Oneonta, where they had two place-winners.
Edison at Odessa-Montour, 7 p.m.
Edison is on the road in an IAC matchup. Edison is coming off a win over Lansing in their last non-tournament dual meet. Over the weekend they won a match and had two most outstanding wrestlers at their weight at the Odessa-Montour Duals.
BOWLING
Elmira at Corning, 3:40 p.m.
The Express head to Crystal Lanes to take on the Hawks. Corning's boys are unbeaten on the year. The Corning girls are lead by Meghan Sturdevant, who has been one of the top girls in Section 4. Elmira is coming off a matchup with Maine-Endwell where the boys won 4-1 and the girls fell 4-1.

Union Springs/Port Byron at Notre Dame, 3:30 p.m.
The Notre Dame bowlers play host at Dixie Lanes. The girls have been bowling well, while the boys have been shorthanded in recent matches.
Binghamton at Horseheads, 3:40 p.m.
The Blue Raiders host Binghamton at Crystal Lanes. In their last match the girls swept Johnson City, while the boys fell to Johnson City.