IAC GIRLS' BASKETBALL: SHORT-HANDED EDISON RALLIES PAST O-M (6 PHOTOS)
(2022-01-11)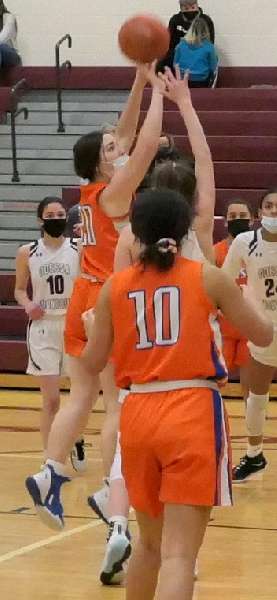 Southern Tier Sports Report
ODESSA — The Spartans were shorthanded, but they didn't let that stop them as they rallied for a 46-33 win over Odessa-Montour Tuesday.
The Spartans had a few girls out and they could have rescheduled the game to a later date.
"I give my girls a ton of credit," Edison coach Chris Mallette said. "They wanted to play so we went on the road with only seven players, including Charlee Stroman up from the JV. The girls played their hearts out and earned a hard-fought victory."
Lexi Moore had a new career-high with 16 points and Payton Littlefield was shutout in the first half, but came back strong, hitting five threes on her way to 15 second-half points.
Harper Hoffman had seven points for the Spartans and Gianna McGee had six points, while Gabby Milazzo added two points.
Littlefield had four threes in the third quarter when the Spartans outscored O-M 16-10 and in the fourth the Spartans outscored the hosts 14-5 with Moore scoring eight points in the quarter.
Keyonna Garrison had 12 points for Odessa-Montour and Gina Gavich had eight points.
——
PHOTOS COURTESY OF TERRY DAY.