ON TAP TODAY: WEATHER IMPACTS SCHEDULE, BUT CORNING AT ELMIRA SWIMMING & DIVING AND GIRLS' HOOPS HIGHIGHTS DAY
(2022-01-11)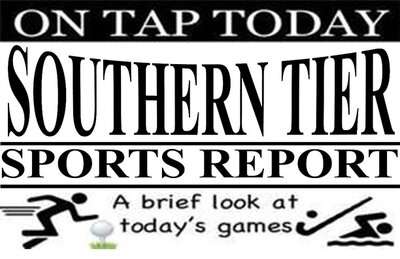 Southern Tier Sports Report
Mother Nature impacted a few games today, but it's still a busy day of local sports.
While five events that were originally scheduled are off the books for today, it still leaves seven local events taking place, highlighted by Elmira hosting Corning in girls basketball and in swimming and diving.
Here's a look at today's schedule.
GIRLS' BASKETBALL
Corning at Elmira, 7:15 p.m.
The Hawks are 7-1 on the year, coming off wins over Horseheads and Ithaca last week. The Express beat Ithaca last week, but dropped their first STAC game of the year to Horseheads. Elmira was ranked 11th in the state heading into this week.
Edison at Odessa-Montour, 6 p.m.
The Spartans just keep rolling along, winning their fifth straight game last time out against Watkins Glen. They take the road for a varsity only 6 p.m. start.
SWIMMING & DIVING
Corning at Elmira, 5:30 p.m.
The two rivals meet in the pool. Ryan McNutt has had a record-breaking year for Corning already this season and is tied for the top time in the state in the 200 free. The Express have a busy week as they host this meet and then host their invitational on Friday and Saturday.
Horseheads at Johnson City, 5:30 p.m.
The Blue Raiders are coming off a comeback win over Elmira in which they rallied from 20 points down. They are 5-1 on the year and heading to take on a solid Johnson City team.
Bowling
Edison at Groton, 4 p.m.
The Spartans hit the road for a bowling matchup.
Boys' basketball
Odessa-Montour at Edison, 7:30 p.m.
The Spartans are home as they look for their first win of the season in an IAC matchup.
Wrestling
Johnson City at Corning, 6:30 p.m.
The Hawks play host to Johnson City in a STAC wrestling matchup. The Hawks have been short-handed in recent matches, but still got a win over Maine-End-well in their last STAC matchup. Johnson City has been shorthanded all year.
** With Ithaca closed for the day due to weather both the Ithaca at Horseheads girls' basketball game and the Horseheads at Ithaca wrestling matches were postponed. Notre Dame boys and girls basketball against Tioga were postponed and the Notre Dame bowling matches with Newark Valley were also postponed.