THE WEEK AHEAD: BUSY WEEK HIGHLIGHTED BY RIVALRY MATCHUPS, ELMIRA SWIM & DIVING INVITE
(2022-01-09)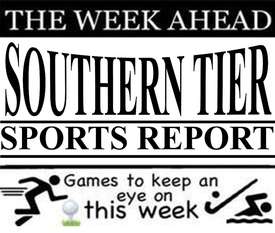 Southern Tier Sports Report
There are more big rivalry games, and a little bit of everything during a very busy week of local sports.
There are 42 events on the schedule this week, including 12 events on Tuesday.
Corning and Elmira's boys and girls teams meet in basketball this week, while Corning, Horseheads and Elmira all compete at Elmira's Swimming and Diving Invitational.
Horseheads wrestling team is at Elmira this week with a chance to capture a division title.
Here's a look at this week's schedule, including how many events are taking place each day.
MONDAY (4)
* The lone basketball game of the day takes place on the road as state-ranked Corning heads to Owego.
* There are three bowling matches taking place, two on the road. Elmira plays host to Maine-Endwell and Horseheads is at Johnson City, while Corning is at Vestal.
TUESDAY (12)
* Corning is at Elmira girls in one of the highlights of the night for basketball. Elmira is state-ranked, while Corning is 7-1 on the year. Notre Dame's girls are at Tioga, while Edison is at Odessa-Montour and Horseheads hosts Ithaca in the other games for the day.
* The Elmira swimmers play host to Corning, while Horseheads swimmers head to Johnson City in STAC matchups.
* There are a pair of boys' basketball games as Tioga is at Notre Dame and Odessa-Montour is at Edison.
* Corning's wrestling team hosts Johnson City in a STAC matchup, while Horseheads is on the road at Ithaca.
* Notre Dame's bowling team hosts Tioga, while Edison is at Groton.
WEDNESDAY (8)
* The Corning boys play host to Elmira one day after the girls meet. The Horseheads boys are on the road at Ithaca.
* There bowling matches are on the schedule with Corning hosting Elmira, Horseheads hosting Binghamton and Notre Dame hosting Union Springs/Port Byron.
* The Notre Dame girls' basketball team plays host to Moravia.
* The Elmira wrestling team hosts Maine-Endwell, while Edison is at Odessa-Montour.
THURSDAY (4)
* The Horseheads wrestling team travels to Elmira with a chance to capture the division title. The Corning wrestling team hosts Binghamton.
* The Notre Dame bowlers are at Lansing and Edison plays host to Odessa-Montour.
FRIDAY (6)
* Day one of the Elmira Swimming and Diving Invitational takes place with Horseheads, Corning and host Elmira in action.
* There are two boys' basketball games on the schedule as Elmira hosts Maine-Endwell and Edison hosts Lansing.
* The Corning girls play host to Norwich, while the Edison girls are at Lansing.
* Horseheads heads to Canandaigua for the Bradshaw Tournament.
SATURDAY (8)
* Day two of the Elmira swimming and diving invitational takes place.
* Horseheads takes part in day two of the Bradshaw Tournament, while Elmira is at Hornell for a Tournament, Corning is at Waverly for the first Jim McCloe Wrestling Tournament and Edison is at the Dan Wickham Classic in Unatego.
* The Horseheads boys play host to Notre Dame in basketball action.
* The Horseheads and Elmira track and field teams are in Cortland, while Corning and Notre Dame head to Brockport.