COLLEGE HOCKEY: A WINDING PATH BACK TO ELMIRA FOR KRAWCZYK
(2022-01-07)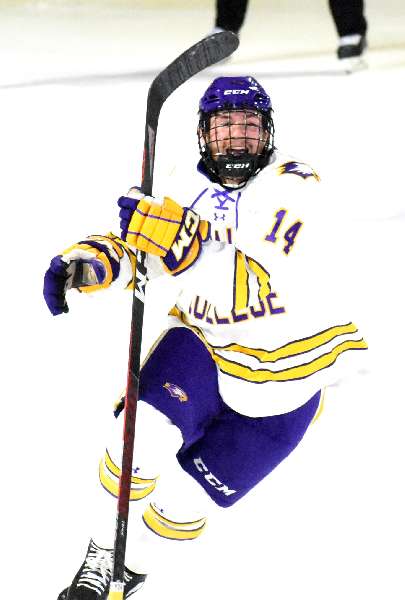 By Brian Fees
Southern Tier Sports Report
As a kid Bailey Krawczyk made plenty of trips to Elmira College, sitting with his family in the stands and cheering during hockey games.
These days Krawczyk and his family are still attending all of the EC men's hockey games, the difference is his family is in the stands cheering while the Elmira College sophomore is on the ice scoring goals.
"Growing up here, this is where I learned to love the game and watching games here my whole life," Krawczyk said. "So, playing in front of these fans is extra special and it means the world to me.
"It's a dream come true to make it to this point. Obviously Elmira College hockey here is a big part of the community and to be able to play here after growing up here is a dream come true and I'm truly privileged to be able to do that."
Whenever Krawczyk scores a goal he knows right where to look to see his family cheering him on.
Being an Elmira High school graduate, Krawczyk doesn't know if that means the fans get more excited when he scores, but he knows his family does.
"I don't know if I see it from the fans, but I know I see it from my family," Krawczyk said. "I know right where they sit every game, so looking up at them and seeing them go nuts is awesome. It brings chills and is very special to me.
"Looking up to the same section where all the families sat growing up, they are still there, all the people I grew up with, it's super awesome to see, it's very special."
This year has been a big year for the sophomore.
A season ago Krawczyk appeared in 10 games, netting three goals and two assists.
This year, he's taking on a much bigger role, with six goals and six assists in 13 games. In the team's last game, on Dec. 11 against the number one team in the country, Geneseo, Krawczyk had an assist and four shots in a 4-3 Elmira win.
"It's awesome," Krawczyk said of the bigger role this year. "I had a decent role last year, but definitely a bigger role this year. Just the support from our coaching staff and my teammates, and to be able to play in front of the crowd is awesome."
It's a nice confidence booster for Krawczyk to know the coaches trust him with a key role.
"Having a prominent role in the lineup, especially on special teams, knowing the coaches believe in you in certain situations is definitely more comforting for yourself and gives you a higher confidence level," Krawczyk said.
Last year was a unique year for teams with everything going on with Covid. And, while Krawczyk was adjusting to the college game, getting a chance to play in games and score a couple goals boosted his confidence going into this year.
"It definitely helps a lot," Krawczyk said. "Just knowing you could play at this level and then with the conference switch this year, I think it just added another level of excitement for everybody. Last year was definitely a big thing for confidence."
This year, Krawczyk was ready to have a big year.
"I thought I had a good summer of training," Krawczyk said. "Then, first game nothing, but I've been on a roll lately and to get those first few felt good."
A WINDING JOURNEY TO ELMIRA
For Krawczyk playing at Elmira College is a chance to come back home.
The Elmira High School graduate had to leave the area as a teenager to work on his game.
"It's definitely hard, me and Dan Dimon, who is on the team, at a young age, like 14-years-old, we had to move away, go to Syracuse, Buffalo, areas like that, so it's definitely a challenge," Krawczyk said. "But, it's definitely worth it, and now we are here and we love every minute of it."
It was a lot of work for Krawczyk to get to this point.
"My first few years of Elmira High School I was commuting back and forth to Syracuse and then my senior year I moved to Buffalo and played 18u hockey there, and then two years after high school I lived in Rochester and played juniors there and now I'm back here.
"It's a lot of commitment, not only from yourself, but from your family and friends. It's really a grueling sport, a lot of money, but in the end it's all worth it and I couldn't be more happy."
Krawczyk and Dań Dimon both started at. Elmira High School. Krawczyk was lucky that the way his season went in Buffalo, he was able to come back to Elmira and still graduate from Elmira High School. Dimon wound up going to the Millbrook School and graduating from there.
"We played on the same 16u Syracuse Stars team that won a state championship," Krawczyk said. "But, he actually wen the prep school route and I ended up going to juniors, but it all ends up leading back to the same path. It's just what you want to choose."
For Krawczyk it was a tough choice on what to do with going the route he went, playing juniors, or going to prep school.
"It's definitely a very tough choice," Krawczyk said. "It's really a leap of faith. You don't know what's going to play out, but whatever you feel the most comfortable with I think will work out the best for you."
Krawczyk knows that it was a tough thing for his parents for him to leave the area.
"It's definitely tough," he said. "Thankfully when I moved away senior year I lived with a family member in Buffalo so that was really easy and in juniors I lived with Jared Smith's family (an Elmira College teammate), we played juniors together so those families made it super easy on me and put my parents at ease so I'm very thankful for that."
One of the challenges with focusing on hockey is giving up a normal high school life. For Krawczyk that meant giving up lacrosse, a sport in which he was a two-time Section 4 all-star in 2017 and 18.
"It was definitely tough," Krawczyk said. "My dad played college lacrosse so lacrosse was a big part of my life, but hockey is where my heart was, so I had to give up those things. It's definitely tough, but the commitment to the sport is all worth it in the end."
The journey might have been difficult, but now Krawczyk is right where he wants to be.
"It's awesome, it all came full circle," he said. "Being able to play here and for them to just drive two minutes up the road to watch me instead of a few hours. It's awesome and I couldn't be more thrilled with it."
And, being back in the Elmira area is special for Krawczyk.
"It's awesome, I can stop over all the time (to his parents), to be that close and able to see them whenever I want, I am very thankful for it," Krawczyk said.
A DIFFERENT FIRST YEAR OF COLLEGE
Getting used to the college game can be tough.
Getting used to the game in empty stands during a year hampered by Covid is extra tough.
For Krawczyk adjusting to college hockey didn't prove to be that difficult. But, adjusting to online classes and everything with the Covid year was tough.
"It wasn't too hard (the adjustment to college)," Krawczyk said. "More the mental aspect with Covid going on and online classes, but on the ice, hockey is hockey, and it wasn't too bad."
The adjustment was helped by the fact that Krawczyk was a part of a big freshman class.
"Thankfully we had 14 freshmen in our freshmen class, so we were all kind of in the same boat, but everyone banded together. All the upperclassmen, our captains, they are awesome and they made the transition smooth for us."
It also helped Krawczyk that he had players he knew already coming in.
"It helps a lot, it was a super easy transition," he said. "I knew a few guys Dan Dimon, Ryan Reifler (of Binghamton), Jared Smith, just coming in with those guys was comfort off the bat. We all went through the same things, so we could all lean on each other."
Only one time last year did the Soaring Eagles play in front of fans, in the semifinals at Utica. It was a bit of an adjustment to play in an empty rink.
"It was definitely different playing in this rink with no fans, no energy," Krawczyk said. "Just us having the fans back this year, I mean it's the best crowd in D3 hockey and we are truly lucky to have it."
With most hockey players going and playing juniors after high school the players are older as they get to the college game. That can be tough with a few years away from high school, but it also can help when challenges like Covid are happening as the players are older.
"I could have done another year of juniors, so I'm a little younger," Krawczyk said. "All the guys in my class are 1999 birth years, I'm a 2000, so I'm definitely a little bit older than a normal freshman, that's hockey guys for you.
"It definitely helps a lot, I would say our maturity levels are a little higher than a lot of people, but on the academic side being out of school for a few years is definitely hard to jump back in, but I'd say it helps a lot."
Many of the professors know how to help the kids get used to classes again and that makes it easier for the players when they haven't been in school in a while.
"It's definitely very challenging," Krawczyk said. "But, thankfully our teachers know the hockey guys, they know what goes on so thankfully they are super helpful about us getting acclimated back into school and especially with our counselors and stuff."
This year the fans are back and it's special for Krawczyk and his teammates.
"It sends chills down your body, we were talking about it in the locker room how awesome it is and the crowds keep coming every game and we are going to try and put on a show," Krawczyk said.
HIGH HOPES FOR THE SEASON
Elmira is 9-3-1 on the year, they are nationally ranked and have the win over No. 1 Geneseo this year.
For The Soaring Eagles there are high hopes this season.
"We are very excited," Krawczyk said. "We know this group is super special, we are super tight, we showed what we could do last year and I think we are building off that coming into this year. Especially coming off a win over a No. 1 ranked team, so I think the second half of this year is going to be very exciting."
Not only is the team having success, but they are a young team with a bright future.
"I'm super excited, our team is very young," Krawczyk said. "We aren't graduating very many guys so it will be pretty much the same team next year. We won a championship in our first year so I think the sky is the limit and we are going to shoot for the national championship."
The team has a game Jan. 21 at First Arena, and that's special for Krawczyk because he and Dimon helped in the organization of the night for Billy Lowe, a former lacrosse and hockey at Horseheads that passed away in 2020 due to a cardiac event.
"That will be a pretty cool experience," Krawczyk said. "Hopefully a lot of fans will come out and honor the life of Billy Lowe, so that means a lot to me and Dan Dimon especially, and our whole team."
WHAT'S NEXT
For Krawczyk Elmira College always seemed like the right fit for him.
He started to realize when he was playing in Syracuse maybe one day he could play in college.
"Probably going into my 16u in Syracuse guys on my team were getting looked at by colleges, high end colleges," Krawczyk said. "So I knew if I put int he work I could achieve this. And, then going into my 18u year in Buffalo schools started talking so I knew it was a possibility."
When he started looking at schools Elmira was always in his mind.
"There were a few schools talking to me, but in the end it was a very simple choice and I always wanted to be home," Krawczyk said.
And, the Elmira College sophomore is loving every minute playing for EC.
"It's pretty special, I don't take it for granted, I don't want time to end here.," he said.
Playing juniors and traveling around for the sport was something special for Krawczyk.
"It's probably the most special thing in my life," he said. "I'll never forget having those two years just hanging out with your buddies, playing the sport you love and traveling all over the country. It's memories you'll never forget and it's special.
"I am in touch with guys all over, especially now in college hockey, pretty much every weekend you are playing someone you know somehow. It's really cool to see them succeeding at their respective schools."
Even after college Krawczyk is hoping hockey remains a big part of his life.
"I would love to play professional and if the opportunity presents itself that would be awesome and then I would love to get into coaching after I was done playing, so that's my future goals."
Through all his time on travel teams and juniors and college, Krawczyk has made a lot of connections that could help with his future dreams in the sport.
"The hockey world is a very small world, so everybody has connections from playing," Krawczyk said. "You meet people from all over, once you graduate there are definitely connections out there from everyone you know."
UP NEXT
The Soaring Eagles are home each of the next three weekends.
They play New England College at 7 p.m. today and No. 8 Norwich tomorrow at 4 p.m. Next weekend they host Southern Maine on Friday and Babson College on Saturday, and then on the 21st they host Hobart at the First Arena, before going to Hobart on the 22nd.
—
IN PHOTO: Elmira's Bailey Krawczyk. . . PHOTO BY BRIAN FEES