COLLEGE SWIMMING: NOTRE DAME GRAD CATHERINE CRAIG SWIMMING WELL AT BUCKNELL
(2021-12-30)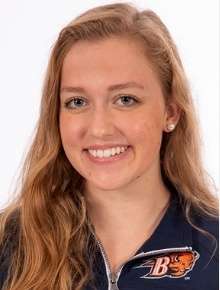 Southern Tier Sports Report
Notre Dame graduate Catherine Craig is finding success to start the year for the Bucknell swim team.
At the Bucknell Invitational she was sixth in the 200 breaststroke in 2:20.87 and she was 13th in the 100 breaststroke in 1:06.20 and 18th in the 400 IM in 4:31.40.
In a meet against Binghamton she won the 200 IM in 2:09.89 and she captured the 200 breaststroke against Boston University in 2:23.66.
Craig also has three second place finishes this year, in the 100 breaststroke against Boston U. (1:05.96) and in the 200 IM in the same meet (2:09.48). She also took second in the 100 breaststroke against Binghamton (1:06.34).
Craig finished fourth in the 500 free against Holy Cross in 5:28.
In 2020 she was an All-Patriot League second-team selection. She scored 38 points at the Patriot League Championships.
She entered the year with the fourth fastest 100 breaststroke time in school history (1:03.82) and the fourth-fastest 200 breaststroke time (2:17.10) and she was a member of two medley relay teams with top-10 times in school history.
With her two first places this year Craig has 17 individual wins in her career.
—
PHOTO COURTESY OF BUCKNELL ATHLETICS